Thank you for your inquiry.
In order to copy the objects or planes you make to the other layers,
please select it and click 【Edit】→【Move between Layers】 on the menu bar above.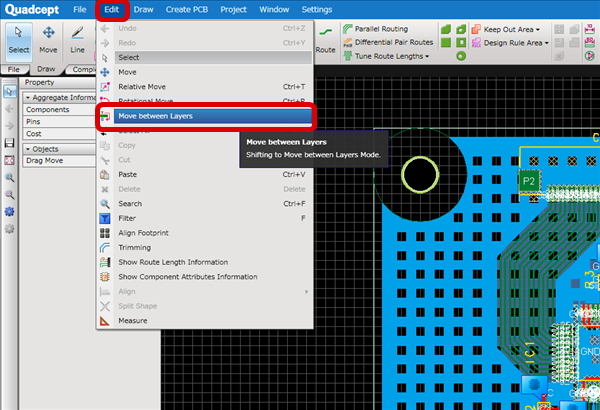 After you choose the layer you'd like to put the object on,
please check 【Create Copy】 and click 【Run】.
■Move between Layers
We have not yet prepared the English manual which covered all contents.
I'm sorry to inconvenience you, but please substitute in the browser of the translation function.
Please try that.
Thanks for your help,
Can you hep me. I make a panel data, I want to draw the hole for ICT,  I'm make a hole footprint and input this footprint but I cant delect this footprint when i edit my panel, please refer my picture.
Thank you for your inquiry.
You cannot select and delete only the hole because
the object in the file you sent is made as a footprint and
the content of footprints cannot be edited on a PCB sheet.
By highlighting the whole object by dragging the mouse over it,
it is selected as a footprint and you can erase it.
※You need to select it by dragging the mouse because there is no silk and area of the part.
※Please use the file I have attached as a reference.
Please try this.